Through the Games, in addition to enhancing hard infrastructure, including developing sports facilities and advancing barrier-free improvements, many human legacies are emerging, such as enhanced enthusiasm for participating in sports, interest in Para sports, and the volunteer activities that supported the Games.
Now with a strong sense of the accomplishments of the Games, the Tokyo Metropolitan Government has compiled "TOKYO Sports Legacy Vision" to show how these accomplishments will be leveraged in the promotion and establishment of sports in the city.
Maintaining its momentum, Tokyo will take every opportunity to have the accomplishments of the Games lead to the realisation of Tokyo as a sports field.
Thomas Bach, President of the International Olympic Committee said:
"The Olympic Games Tokyo 2020 were an overwhelming success for the athletes and the local and international audiences, despite the coronavirus pandemic. The Games also created a much-needed legacy for their hosts, helping increase sports participation in Tokyo. We congratulate the Tokyo Metropolitan Government for this fantastic achievement and welcome its plan to build on this legacy by further promoting sports activity in the city."
Andrew Parsons, President of the International Paralympic Committee said:
"It is fantastic to see that Tokyo Metropolitan Government is so committed to fulfilling the Tokyo 2020 Olympic and Paralympic legacy.
When any city hosts the Games it is absolutely vital that they build on the momentum generated and it is wonderful to see that TMG is not just advancing the promotion of Paralympic sports, but looking at how sport facilities can continue to be used, how Tokyo can attract more international sport competitions and how sport can be practiced throughout the city. Importantly, Tokyo staged historic Games in 2021 and the culture of volunteering and use of sport as a tool to drive societal change must continue at pace. A Games legacy is not delivered immediately, a legacy comes to life over a long period of time and we are encouraged by TMG's plans."
TOKYO Sports Legacy Vision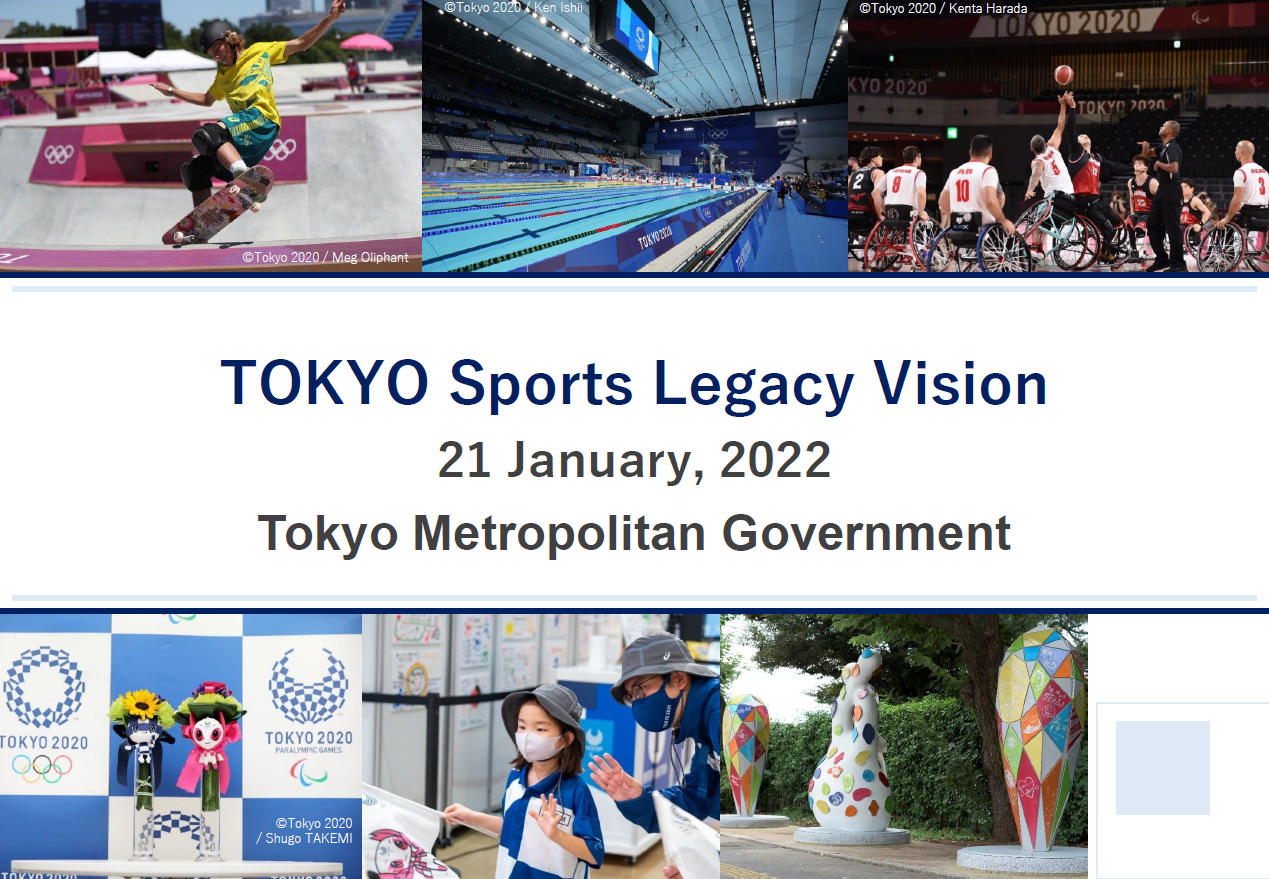 TOKYO Sports Legacy Vision(9.4 MB)
TOKYO Sports Legacy Vision - Outline(1 MB)
Content
「TOKYO Sports Legacy Vision」(10 MB)
Japanese version
Movie
TOKYO Sports Legacy Vision
[Strategic utilisation of metropolitan sports facilities]
[Attracting and hosting international sports events]
[Expanding opportunities for sports practice to all parts of Tokyo]
[Promoting Para sports]
[Tokyo athletes' engagement and support]
[Establishing a culture of volunteerism]
[Message to the future]