Winners, Tokyo Sports Awards
TMG granted the Tokyo Honor Award and the Tokyo Citizens Sports Award to 4 soccer players who are associated with Tokyo: Ms. Homare Sawa, Ms. Azusa Iwashimizu, Ms. Karina Maruyama and Ms. Mana Iwabuchi. They were 4 members of "Nadeshiko Japan" who won the Germany 2011 FIFA Women's World Cup.
The award ceremony was held at the Citizens' Plaza of the Tokyo Metropolitan Government building on the 17th of Aug 2011. Tokyo governor, Mr. Ishihara, handed over certificate of merit to each player saying "Congratulations everyone. You have been fighting in harsh conditions carrying so many things on your shoulders. I strongly expect you to also win the qualifying matches for the Olympics. I know it is hard to win. What we can do is to cheer and pray for you. Prayer does work. Grit your teeth and bend over backwards to achieve everyone, thank you".
Ms. Sawa made a comment in response to the governor's motivational message, "I am greatly honored and happy with such a stunning award. I will make more efforts to meet people's expectations for this award. I hope Tokyo will host the Olympic Games in 2020. We are behind you". The 4 players gave him an autographed soccer ball in return.
The award ceremony was open to the public. About 2,300 spectators celebrated their remarkable success in a shower of golden confetti.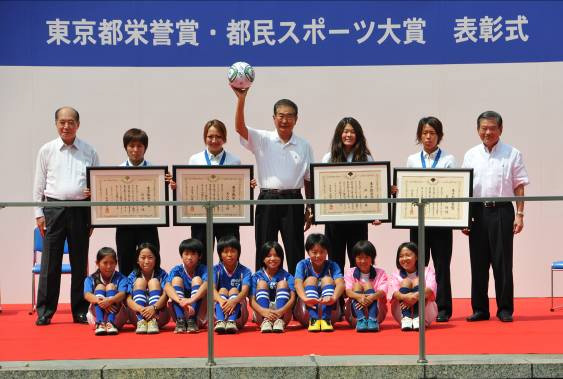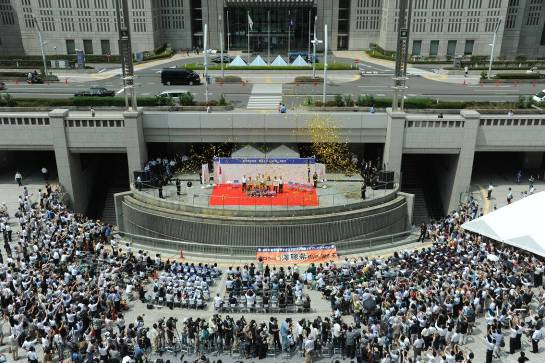 Many spectators got together at the Citizens' Plaza where the golden confetti shower of the World Cup's award ceremony was recreated.
○The gold medalists of FIFA Women's World Cup Germany 2011


Ms. Homare Sawa

  MF, Captain
  From Fuchu city, Tokyo


Ms. Azusa Iwashimizu

  DF
  Plays for NTV Beleza


Ms. Karina Maruyama

  FW
  From Oota ward, Tokyo


Ms. Mana Iwabuchi

  FW
  From Tokyo Plays for NTV Beleza