Winners, Tokyo Sports Awards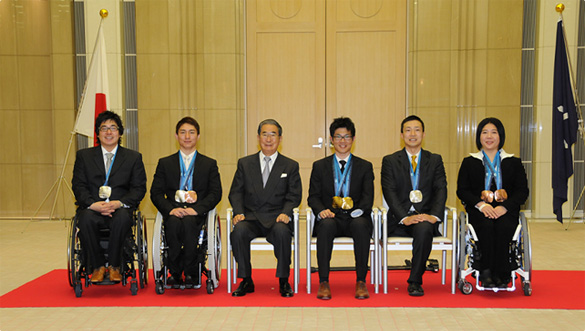 Providing Tokyo citizens with inspiration, hope and strength, Tokyo-based athletes who had participated in the Vancouver 2010 Paralympic Winter Games were recently honored by the Tokyo Metropolitan Government.
At an award ceremony taking place on April 13, 2010, Governor Ishihara presented gold medal-winning cross country skier Yoshihiro Nitta with the Tokyo Medal of Honor and the Tokyo Residents Sports Award. The governor also bestowed the Tokyo Residents Sports Award upon alpine skiing silver medalist Taiki Morii and three others.
Governor Ishihara congratulated the athletes stating, "You have provided inspiration to us all by overcoming perceived disabilities and revealing the true strength of the human mind and body."
"I am pleased to have won a medal as a representative of Japan. And retaining this sense of pride, I will train diligently for the 2014 Sochi Games", offered Nitta in response.
Yoshihiro Nitta


[Cross-Country Skiing]


Born in Okayama Prefecture, 8 June 1980
2010 Vancouver Paralympics Result
    Gold: Men's 1 km Sprint Classic, Standing
    Gold: Men's 10 km Classic, Standing




Taiki Morii


[Alpine Skiing]


Born in Tokyo, 9 July 1980
2010 Vancouver Paralympics Result
    Silver: Men's Downhill, Sitting
    Bronze: Men's Super-G, Sitting




Mikio Annaka


[Ice Sledge Hockey]


Born in Tokyo, 15 August 1971
2010 Vancouver Paralympics Result
    Silver




Kazuhiro Takahashi


[Ice Sledge Hockey]


Born in Tokyo, 4 December 1978
2010 Vancouver Paralympics Result
    Silver




Kuniko Obinata


[Alpine Skiing]


Born in Tokyo, 16 April 1972
2010 Vancouver Paralympics Result
    Bronze: Women's Slalom, Sitting
    Bronze: Women's Giant Slalom, Sitting